Practice makes perfect
Our Nice Leader training course runs over two weeks, each session is 90 minutes, and will help you teach your dog how to walk nicely by your side, on a loose lead.
We know how difficult it is to walk with the dog that pulls like a train, zig-zags or stops and starts all the time. Walking nicely on a lead is not an easy ask on our dogs, and our Nice Leaders course can help your dog to see the walk as a nice rewarding activity with you.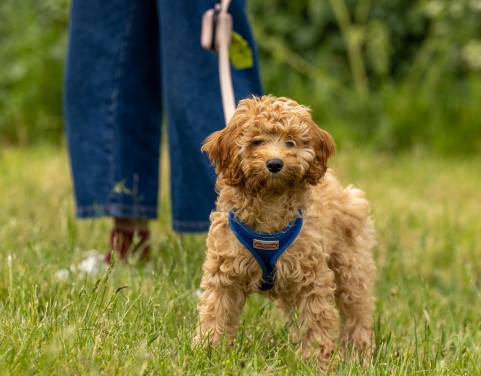 We won't lie, loose-lead walking may not be the easiest skill to master, but with the right practice, it is very achievable and it is a very rewarding nut to crack.
In this course we also cover lots of focus and attention type exercises, to help your dog stay engaged around distractions, which is often half the battle.
Before you book
Dogs learn best when they are comfortable and relaxed with their environment. Group classes are best suited for dogs that can stay relaxed and focused when close to other dogs. If your dog gets over-excited, barks, lunges, vocalises or shows stress in the presence of other dogs, we would recommed our Excitables/Reactives course where you can learn techniques to help your dog relax with distractions around before venturing into other training. All of these behaviours signal that your dog is likely not comfortable with dogs being too close, or they find the outdoor environment a little overwhelming.
All of this is very normal and needs to be addressed separately, so that you and your dog can make the most of training. You could also consider getting help on a one-to-one basis.
If you would like to discuss which course may be the best for your dog, we are only an email away.